May27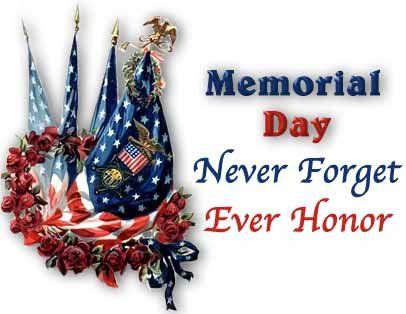 The True Significance of Memorial Day…
Most people think of Memorial Day as a three-day weekend, a day of sales, and the official "kick-off" to summer.  While all those things are fine, we seldom stop to think about the real reason – a day to honor those who gave their lives so that we could live free.  Once, I erroneously posted "Happy Memorial Day" – and a veteran "gently" corrected me.  It seems that our society has a way of turning significant holidays into less meaningful moments…
Memorial Day is a United States federal holiday which occurs every year on the final Monday of May.  Memorial Day is a day of remembering the men and women who died while serving in the United States Armed Forces.  Formerly known as Decoration Day, it originated after the American Civil War to commemorate the Union and Confederate soldiers who died in the Civil War. By the 20th century, Memorial Day had been extended to honor all Americans who have died while in the military service.  It typically marks the start of the summer vacation season, while Labor Day marks its end.  (Wikipedia)
OK, I really "like" wine…
I had completely forgotten this photo I had taken of the back of a bottle of wine when I was at Trader Joe's in Tucson.  I actually laughed out loud in the store when I read "…Babble tastes like plum, bacon fat, and blackberry preserves."  I "do" like wine, but sometimes I'm "amazed" at the taste definitions that some sommeliers invent!
Actually, I recently read an article online entitled "Wine Tasting is Bullshit.  Here's Why."
The human palate is arguably the weakest of the five traditional senses. This begs an important question regarding wine tasting: is it bullshit, or is it complete and utter bullshit?
An interesting read to say the least…  🙂
Pairing wine with food…
Vegan Spicy Mexican Quinoa Casserole
No, I did NOT pair the Babble wine with the tasting notes of bacon fat with this meal!
Seriously, I've been trying to adopt a healthier style of eating lately.  Although I'm not a big meat eater, I do like chicken and fish.  I don't know if I'll ever become a "hard core" vegan, but adopting more plant based foods into my diet can't be a bad thing.  I'm quite a cheese lover (goes with wine!) and would miss my cheese fix the most.
I "did" make a somewhat delicious casserole for dinner last night (if I don't say so myself).  I used this recipe and just substituted vegan cheese for regular cheese to make it completely vegan.
Have a wonderful week everyone! 
6 Replies to Desert Diva to "Memorial Day, Bacon Fat Wine, Vegan Casserole"