Jun29
It's been really warm here in Las Cruces…
Gee, don't worry it's not THAT hot – remember it's a DRY HEAT!   :devil:
Winkton?
Where is Winkton you ask?  How should I know?  My late mother never developed an affinity for cursing and liked to use the phrase:  "Like a bat out of Winkton."  I "think" Winkton might be synonymous for "H – E – double cross-sticks,' but I can't be completely sure.  While we're on the subject of cursing my mother developed a seemingly secret language for words that were questionably proper in the Cox household.
Englebert Humperdink?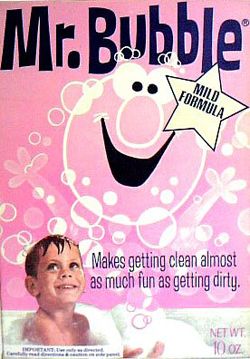 My mother had seven kids (yep, I'm one of 'em) and liked to take advantage of shortcuts to make her life easier.  So, instead of constantly nagging my brothers to wash when they were in the bathtub, she just threw in some Mr. Bubble.
I guess it was kind of like a human washing machine.  My lovely brothers would play and splash in the tub and get clean at the same time.
The Cox kids all LOVED Mr. Bubble.  Yeah, Mom – I'm ready to take a bath!  Where's the Mr. Bubble?  :laugh:
There was one small problem…
After three of my brothers enjoyed their sudsy spa with happy Mr. Bubble a few times they developed a, uh, prickly problem with their private parts.   😮
In my mother's words to kindly old Dr. Worley (who apparently was present at all of the Cox births) – "Three of my boys have some redness and swelling on and around their Englebert Humperdink's!" 
To make a long story shorter, Dr. Worley advised my mother to stop buying Mr. Bubble and to my knowledge none of the brothers affected suffered any long-term emotional or physical scarring – at least not due to happy Mr. Bubble…
Out of earshot of my mother all of the "non-affected" siblings teased the "affected" ones by saying they had "puffy p*t*rs."  Uh, oh – wait a minute I'm not allowed to use the word p*t*r.
However, I digress…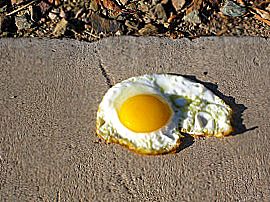 I initially meant you invite you over for breakfast in my new "heated" outdoor kitchen.  Lately, I've been able to utilize cooking temperatures of 105 degrees here in Las Cruces, New Mexico!
You "do" like eggs don't you? 
Please forgive me for not asking you how you like your eggs, since I'm new at this outdoor grill thingy and can only do "sunny-side up."
Uh, don't worry about any little bits of bugs, dog excrement, dust, plants, etc…  It's all ORGANIC!  🙂  I can only do eggs at the moment, but may in time graduate to include bacon!  :pig:
Fowl!
On second thought maybe we could nail this roadrunner and cook him up with the eggs.  He probably tastes just like chicken.  He was waiting on a pigeon dinner in my neighbor's backyard…
Nah, it's probably illegal seeing that the roadrunner is the New Mexico State Bird.
I've got gas!
No silly, not from all the talk of the delicious food – I mean GAS for my car.  I live just around the corner from Sam's Club and couldn't believe it when the price was posted for $2.99/gallon.
Oh Happy Day!  😎
Happy Canada Day to all of my Canadian friends and to those in the "lower zones" Happy July 4th!  🙂  Be safe, eat some great food, and share smiles and good times with those you love!  :rainbow:
14 Replies to Desert Diva to "Cursing, Hot Food, and Gas!"