Jun07
That roadrunner is simply TRASHED!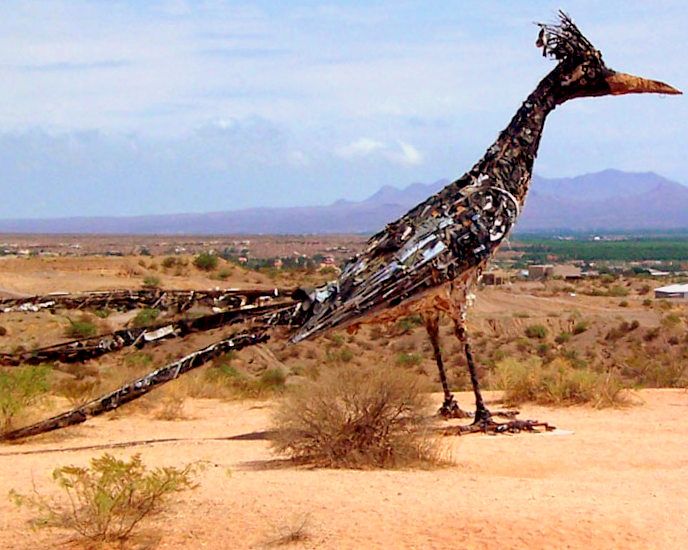 "Trashed" Roadrunner
This "recycled roadrunner" sculpture was made from scrap metal and trash from the old city dump in Las Cruces, New Mexico where it resided until the dump closed.  It now resides upon a mesa west of Las Cruces at a rest stop overlooking the city. 
Lately, Mellow Mike awarded his prize for what he considers the "best" roadrunner photo.  Las Cruces has quite a large one and it's quite handsome at that!  😉
"Doppler Dave" issued a severe weather alert…
and nothing happened.
The clouds got dark, the wind blew, and there was a promise of "golf-sized" hail.  I didn't want Roxanne's "SPUD" to get damaged, so I carefully guided her into my "overflowing with junk" garage.  SPUD fit, but just barely.  Roxanne had to exit SPUD in a "different manner."  😉
Now THAT'S RAIN!
A re-birthing opportunity arose…
Breathe Roxanne – Breathe!
Yes, gentle readers – I'm happy to report that Roxanne has been "rebirthed" in the lowly garage at "Casa de Cheryl."  (OK, not really – the vehicles were so close together she had to climb out of the back hatch!)  The mother (SPUD) and the child (Roxanne) are reportedly doing well…
And how was YOUR Friday?  🙂
42 Replies to Desert Diva to "Roadrunner, Weather, "SPUD" Gives Birth"